Puppies
From time to time our members have puppies for sale. Litters that appear on this website have been bred by registered breeders who are members of the Gordon Setter Club of NSW. The litters are listed according to whelping date and the Club does not endorse or recommend any breeder, or litter and accepts no liability in respect of this. You must satisfy yourself that any puppy you may decide to acquire is healthy, sound and meets your requirements.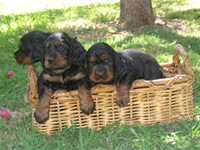 If you decide to purchase a puppy, the breeder should provide a record of vaccinations, the puppy's pedigree and proof of the sire and dam's examination for possible hereditary defects such as hip dysplasia and PRArcd4 (LOPRA). The results of PRArcd4, hip and elbow examinations for individual dogs can be found on the Health Register on this website. An explanation of these conditions can also be found on the health page.

In NSW and some other states all puppies are required to be microchipped before leaving the breeder. Also your puppy's breeder will give you detailed instructions regarding your dog's on-going care, including worming and feeding when you pick him up.
Carnoustie Gordon Setters
would like to announce arrival of their litter of 6 boys and 3 girls born on the 21/10/2015.
Sire: Ch Jamanelph Norman King (Hips 1/0, PRA clear)
GS: Gr Ch/Am Gr Ch Triseter Ebonie Zeusa
GD: Carnoustie What A Vision (AI)
Dam: Ch Carnoustie Lady Morgana (Hips 0/0, PRA clear))
GS: Supreme Ch Drumdaroch Beamers Run (AI)
GD: Ch Jamanelph Pallas Athena)
Expressions of interest are most welcome to Steve and Carolyn Bennett:
Macclesfield, SA 5153 0414 930 223 08 8388 9240
Email: carnoustie@live.com.au
Website: www.carnoustiegordons.com